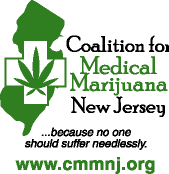 Monthly Public Meeting Minutes
Tuesday, May 14, 2013; 7:00 PM -- 9:00 PM
7:00 PM: Meeting called to order. April 2013 minutes approved. Discussion:
Upcoming Events:
Cheryl Miller Memorial in Trenton on Friday, June 7 from 11am to 3pm—Press Conference at the State House & march to Health Dept. for a rally. More on Facebook:
https://www.facebook.com/events/156388517866235/
Gay Pride Parade, Asbury Park, 6/2/13, noon to 7 pm;
Green Fair, Bordentown, NJ, Sat., 6/8/13;
CMMNJ fundraiser, "The Pop Shop," 6/12/13, 8am to 9pm, 729 Haddon Avenue, Collingswood 856-869-0111, (mention CMMNJ to your server), more at: http://www.thepopshopusa.com;
D.C.: Silver Tour Lobby Day: First Ever Senior Marijuana Rally In Nation's Capitol, June 17. Great 28 minute video, "Should Grandma Smoke Pot?" at: http://www.gofundme.com/1wvgxk
NJ's Medicinal Marijuana Program: DOH promises to open ATCs in Egg Harbor Twp., and Woodbridge by Sept. but these facilities still await DOH permits to grow marijuana. The lawsuit against DOH for failure to implement the MMP is progressing; oral arguments
expected in late May. Only about 150 patients have received medical marijuana in NJ in 4th year of the program.
Recent events:
Spreading the word at MS Walks, Newtown, PA & Ocean City, NJ;
"Medical Marijuana Update," NJ Case Management Society, Woodbridge Hilton, 4/17/13;
"The Science of Marijuana," Ramapo College, 4/4/13 with Dr. Jahan Marcu;
NORML NJ meeting 5/13, The Ale House, New Brunswick;
Radio interviews on WFAN with Bob Salter;
CMMNJ Board of Directors meeting 5/2/13.
Next CMMNJ meeting: 6/11/13, 7 - 9 PM, Lawrence Library, 2751 Brunswick Pike, 08648.

More info:
Ken Wolski, RN, MPA, Executive Director
219 Woodside Ave., Trenton, NJ 08618
ohamkrw@aol.com
kenwolski@gmail.com
Facebook: Friends of CMMNJ:
CMMNJ, a 501(c)(3) public charity, is a non-profit educational organization.